We recently had this Ford Transit Custom 340 2.0 131hp come to us here at Bluespark HQ. It had a speed limiter installed, stopping the van from keeping up with motorway traffic. We soon had it booked in for a custom tune, along with our Pro + Boost chip tuning box.

We dyno tested it with multiple runs to monitor the progress throughout the process.

Firstly, we ran a complete stock run to see what the Transit was producing at stock level with no amount of tune applied. 
After running the Transit on the dyno at stock, we then connected to the ECU and removed the speed limiter. We then upgraded the ECU from Ford's stock 131hp version and installed the more powerful 170hp version. So in theory, the van would now operate from a 170hp stock level, meaning we can tune from this point onwards.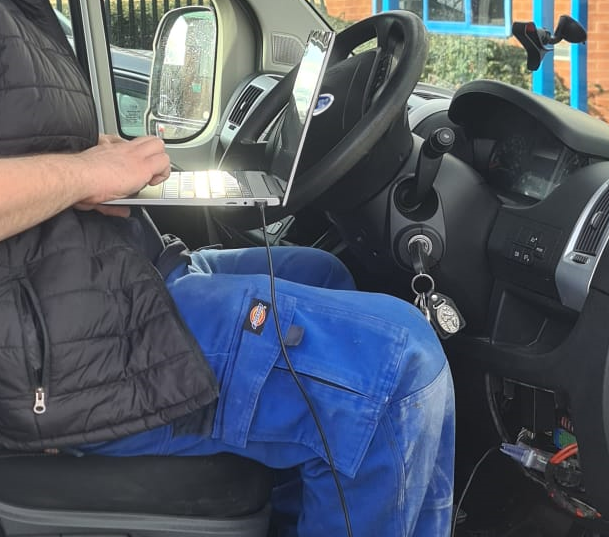 Dyno testing before and after those first set of upgrades, show a decent amount of gains, with an increase in power and torque.
The results showed peak power raise from 133hp at stock, to 158hp with the ECU upgrades. This increase in power, was consistent right through the rev range. Now although the ECU map was upgraded to the 170hp version, dyno results vary slightly and have a deficit of 12hp. This is a good example of when manufacturers claims aren't always spot on, but still allowed us to tune to a higher power output then we normally could.
Low down torque was also increased from the upgrade. The engine produced 409Nm at stock and then 426Nm with the new software. Again, showing great consistency right through the rev range. Similar story to the power claims, as stock figures of torque are slightly higher than Ford claim (at 385Nm), but again this isn't especially unusual for one of these as they will often push stronger figures than manufacture quotes.
We then installed our Pro + Boost tuning box and it went for a third run to see what further gains were made.
Peak power was greatly improved. From showing 133hp at stock, to 158hp with the software upgrade, it now produced 180hp with the box. Normal gains from this box on this engine, would usually come in at around 165hp, so you can really see the benefit here of upgrading the stock mapping first.
Low down torque was also increased further. From showing 409Nm at stock, to 426Nm with the software change, to now 468Nm with the box. Again, our normal gains that we would expect to see from this box would come in at around 447Nm, so more solid proof of the ECU update in action.
You can see the full dyno test here, on our YouTube channel:
To find out what performance improvements your vehicle can make, contact us:

⇒ bluesparkautomotive.com
⇒ 0191 385 9005

Or send us an email and we can link you to the listing for your vehicle [email protected]