1.6, 1.5 and 1.4 TDCi & HDi Tuning Guide
1.4, 1.5 & 1.6 TDCi and HDi Tuning Guide
The 1.4 and 1.6 TDCi & HDi engines are shared by Ford and Peugeot / Citroen group (PSA) as part of a joint venture. These engines are easily identified by their capacity of 1399cc or 1560cc. 
Ford have recently released their 1.5 version at 1499cc, though so far this has not been offered in any Peugeot or Citroen vehicles.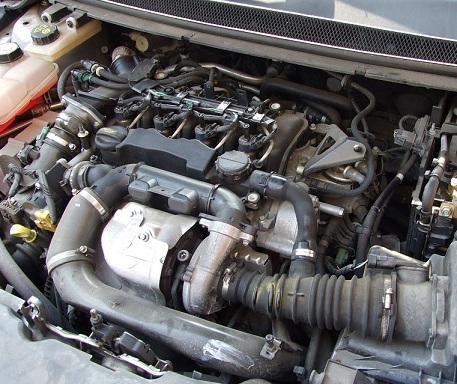 These engines are usually fitted with DPF (diesel particulate filters) and fuelled by Bosch Common Rail EDC (electronic diesel control).
There are both 8v and 16v versions of this engine available, though the 16v version has been discontinued as of 2006, either to make the engine cheaper to produce or optimise for low down torque.
Unfortunately one of the biggest problems with tuning this engine via chips or tuning boxes is the awkward location of the common rail. Whether this was done to discourage tuning, or more likely to save space we do not know, however the later 2.0 TDCi and HDi engines revert back to a standard easy to access common rail. 
Tuning box types
There are two main types of tuning box for this engine. 99% of tuning boxes or chips for this engine connect only to the fuel rail, this is the component which is hard to access on this engine and the reason why we say they are so difficult to install.
There are a lot of cheap but very poor quality tuning boxes available for this engine, usually accompanied by generic installation instructions as the manufacturers have never even been near one of these engines let alone mapped it properly.
All of our standard tuning boxes are properly mapped for these engines specifically. They also connect to the fuel rail. Our Pro + Boost units connect to both the fuel rail and turbocharger boost sensor for enhanced performance. All of our tuning boxes are designed not to increase wear on the particulate filter.
There is a second but rare type of tuning box which connects directly to each injector and is therefore fairly easy to install. The main reason that these are rare is they give exactly the same boost in performance as the fuel rail type, but generally cost at least double. It is rare to see these units for sale for less than £350. Bluespark can provide an injector type box for this engine, but if you can manage the fitting, a rail box is the more cost effective option even if you paid a mechanic to install it.
The remaining option is to have the vehicle remapped, though our tuning kits give similar performance to a remap at a much lower price. You can also remove the tuning box and have it altered to fit a different vehicle.
Installation of a tuning box
Here at Bluespark our fitters can usually install a tuning box on one of these engines in about 1 hour without the use of any special tools or ramps. The hardest part is knowing where to look and how to remove the connector. Once you have conquered this the rest is easy. You will see pictures and videos on this page to help you to solve these issues as easily as possible. We estimate that a typical customer will spend between 30 mins to 1 hour locating and removing the connect connectors, and about 1 hour to remove and reinstall any necessary components. A complete install time of 2 hours is reasonable for your first time.
The 1.6 and 1.4 TDCi and HDi engines are usually fitted in vehicles with small engine bays such as the Ford Fiesta, Peugeot 307, Citroen C3 and so on. These tightly packed engine bays mean access is limited, and the sensor location requires removal of some components to gain access.
On some vehicles with larger engine bays such as the Fiat Scudo 1.6 JTD, Citroen Berlingo, Citroen C5 and so on, the access is much much easier and tuning boxes can usually be fitted in under 30 mins.
Step 1.
Remove the battery and its plastic tray.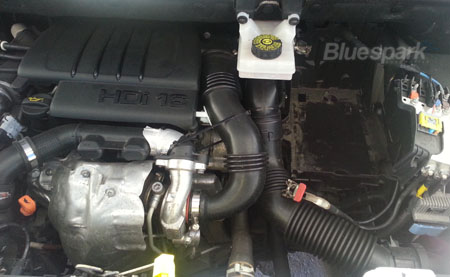 Step 2.
Once the battery and plastic tray are out, you must now remove the steel tray underneath. There are several bolts holding this in place.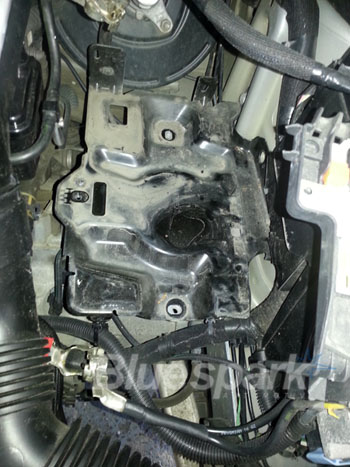 Step 3.
If after removing all visible bolts this tray will not move, there may be a hidden bolt shown below which comes in through the wheel arch. This is common on Peugeot and Citroen vehicles.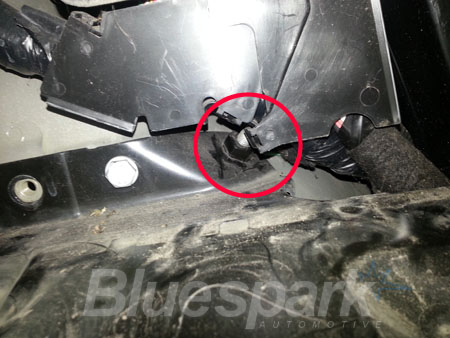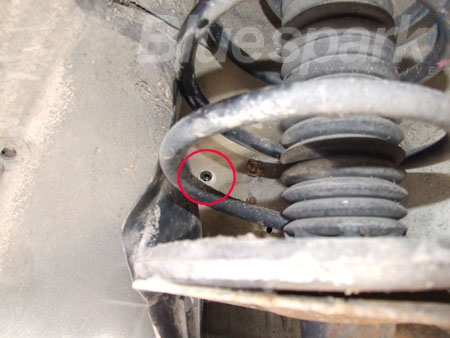 Step 4.
Now that the battery tray is out, you can access the rail pressure sensor. The following images shown it's location just above the flywheel housing.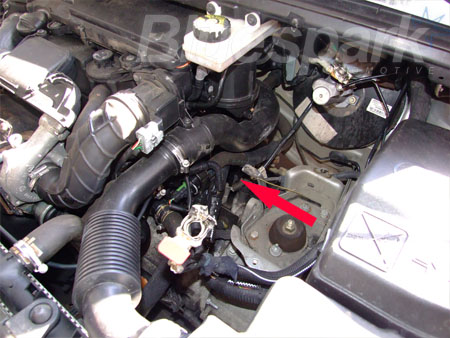 Step 5.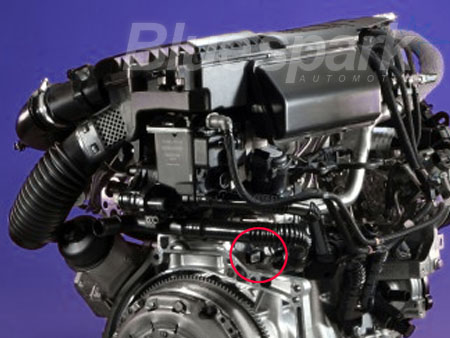 Step 6.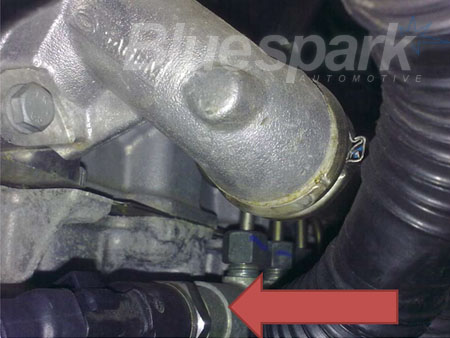 Step 7.
Remove the connector as shown below. If the connector has a yellow piece of plastic in it, you must push the button down on the connector and pull the connector backwards to remove. Check with a mirror. 
If the connector has no yellow piece, you must instead LIFT the tab with your finger and pull the connector backwards to remove as shown in the video below. Practice on one of the other similar connectors in your engine bay first. If the connector is oriented in a way that makes it difficult to get your finger onto the clip, we often use a loop of string or cable tie hooked around the clip and then pull back.
Pulling on the connector before it's clip has been undone only makes it tighter, push the connector fully forward whilst you try to undo it's clip.
Step 8.
Once you have this plug removed, just plug the tuning box into this sensor, and the connector you have removed back into the tuning box and shown below.
Step 9.
If you are using our class leading Bluespark Pro with Boost control, you must also connect to the Boost pressure sensor. This is very easy and is shown in the provided instructions.
Extension harness
We can offer an extension harness for these engines which extends the rail pressure connector into an accessible location in your engine bay. The allows you to remove the tuning box at any time without having to go through the installation procedure again to access the sensor.
These are £20 and can be purchased here: https://www.bluesparkautomotive.com/fci-ext
Common faults unrelated to tuning or remapping.
There are several common failures on this engine, one being premature turbocharger failure due to oil starvation. This was a manufacturing defect caused by materials used in the cylinder head casting process remaining in the engine and later coming loose and blocking the oil ways. The other common fault is the DPF filter (or FAP on the HDi) which can wear out and require replacement. Fortunetely compared to some engines, this is relatively cheap to replace.