The 1.4 and 1.6 TDCi & HDi engines are shared by Ford and Peugeot / Citroen group (PSA) as part of a joint venture. These engines are easily identified by their capacity of 1399cc or 1560cc.
Ford have recently released their 1.5 version at 1499cc, though so far this has not been offered in any Peugeot or Citroen vehicles.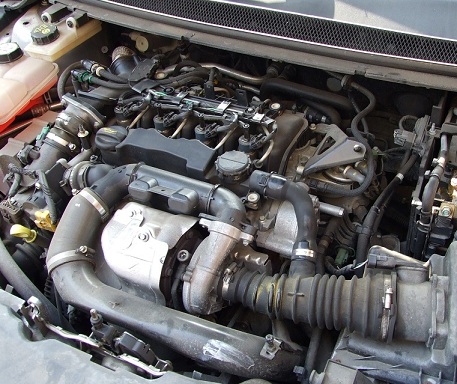 These engines are usually fitted with DPF (diesel particulate filters) and fuelled by Bosch Common Rail EDC (electronic diesel control).
There are both 8v and 16v versions of this engine available, though the 16v version has been discontinued as of 2006, either to make the engine cheaper to produce or optimise for low down torque.
Unfortunately one of the biggest problems with tuning this engine via chips or tuning boxes is the awkward location of the common rail. Whether this was done to discourage tuning, or more likely to save space we do not know, however the later 2.0 TDCi and HDi engines revert back to a standard easy to access common rail.
Tuning box types
There are two main types of tuning box for this engine. 99% of tuning boxes or chips for this engine connect only to the fuel rail, this is the component which is hard to access on this engine and the reason why we say they are so difficult to install.
There are a lot of cheap but very poor quality tuning boxes available for this engine, usually accompanied by generic installation instructions as the manufacturers have never even been near one of these engines let alone mapped it properly.
All of our standard tuning boxes are properly mapped for these engines specifically. They also connect to the fuel rail. Our Pro + Boost units connect to both the fuel rail and turbocharger boost sensor for enhanced performance. All of our tuning boxes are designed not to increase wear on the particulate filter.
There is a second but rare type of tuning box which connects directly to each injector and is therefore fairly easy to install. The main reason that these are rare is they give exactly the same boost in performance as the fuel rail type, but generally cost at least double. It is rare to see these units for sale for less than £350. Bluespark can provide an injector type box for this engine, but if you can manage the fitting, a rail box is the more cost effective option even if you paid a mechanic to install it.
The remaining option is to have the vehicle remapped, though our tuning kits give similar performance to a remap at a much lower price. You can also remove the tuning box and have it altered to fit a different vehicle.
Installation of a tuning box
Here at Bluespark our fitters can usually install a tuning box on one of these engines in about 1 hour without the use of any special tools or ramps. The hardest part is knowing where to look and how to remove the connector. Once you have conquered this the rest is easy. You will see pictures and videos on this page to help you to solve these issues as easily as possible. We estimate that a typical customer will spend between 30 mins to 1 hour locating and removing the connect connectors, and about 1 hour to remove and reinstall any necessary components. A complete install time of 2 hours is reasonable for your first time.
The 1.6 and 1.4 TDCi and HDi engines are usually fitted in vehicles with small engine bays such as the Ford Fiesta, Peugeot 307, Citroen C3 and so on. These tightly packed engine bays mean access is limited, and the sensor location requires removal of some components to gain access.
On some vehicles with larger engine bays such as the Fiat Scudo 1.6 JTD, Citroen Berlingo, Citroen C5 and so on, the access is much much easier and tuning boxes can usually be fitted in under 30 mins.
Step 1.
Remove the battery and its plastic tray.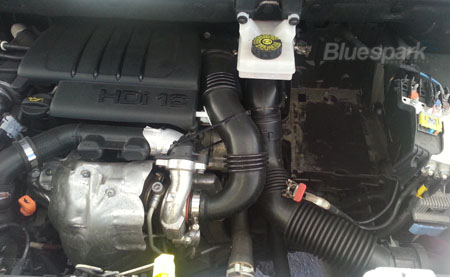 Step 2.
Once the battery and plastic tray are out, you must now remove the steel tray underneath. There are several bolts holding this in place.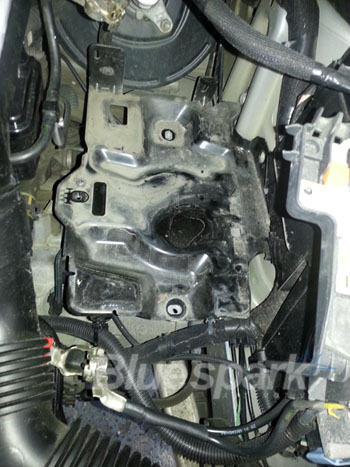 Step 3.
If after removing all visible bolts this tray will not move, there may be a hidden bolt shown below which comes in through the wheel arch. This is common on Peugeot and Citroen vehicles.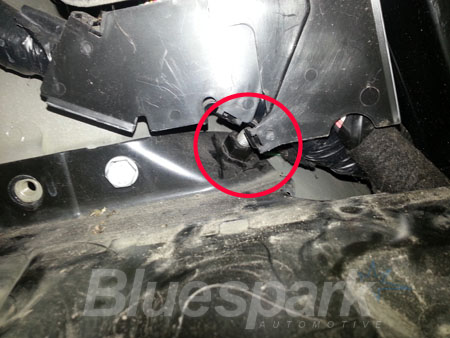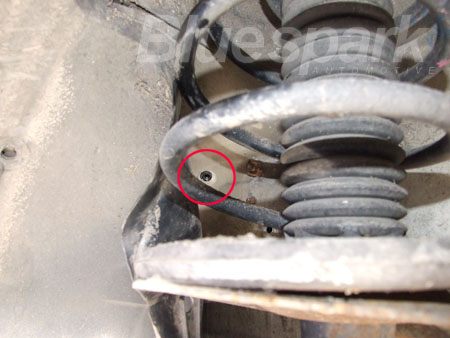 Step 4.
Now that the battery tray is out, you can access the rail pressure sensor. The following images shown it's location just above the flywheel housing.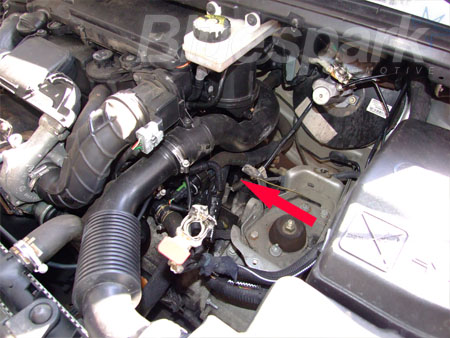 Step 5.
Step 6.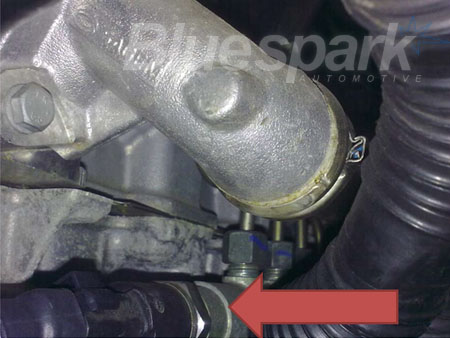 Step 7.
Remove the connector as shown below. If the connector has a yellow piece of plastic in it, you must push the button down on the connector and pull the connector backwards to remove. Check with a mirror.
If the connector has no yellow piece, you must instead LIFT the tab with your finger and pull the connector backwards to remove as shown in the video below. Practice on one of the other similar connectors in your engine bay first. If the connector is oriented in a way that makes it difficult to get your finger onto the clip, we often use a loop of string or cable tie hooked around the clip and then pull back.
Pulling on the connector before it's clip has been undone only makes it tighter, push the connector fully forward whilst you try to undo it's clip.
Step 8.
Once you have this plug removed, just plug the tuning box into this sensor, and the connector you have removed back into the tuning box and shown below.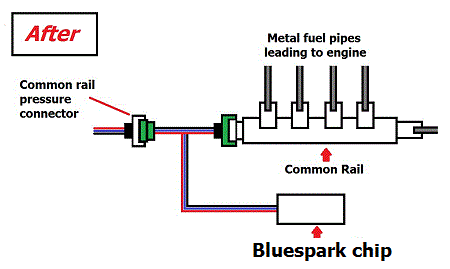 Step 9.
If you are using our class leading Bluespark Pro with Boost control, you must also connect to the Boost pressure sensor. This is very easy and is shown in the provided instructions.
Extension harness
We can offer an extension harness for these engines which extends the rail pressure connector into an accessible location in your engine bay. The allows you to remove the tuning box at any time without having to go through the installation procedure again to access the sensor.
These are £20 and can be purchased here: http://www.bluesparkautomotive.com/extension_loom
Common faults unrelated to tuning or remapping.
There are several common failures on this engine, one being premature turbocharger failure due to oil starvation. This was a manufacturing defect caused by materials used in the cylinder head casting process remaining in the engine and later coming loose and blocking the oil ways. The other common fault is the DPF filter (or FAP on the HDi) which can wear out and require replacement. Fortunetely compared to some engines, this is relatively cheap to replace.
Bluespark Pro - BMW 320d 2009
"I had bought cheaper alternatives for my previous car which was a VW Golf 2.0GT TDI and they were awful. I was therefore not expecting much for my money. First of all the installation is very easy indeed. The car was a 177bhp BMW 320d and was ok but a wee bit sluggish. I took the car out for a 10 mile drive to test the Bluespark Pro and I could have driven it for 1000 miles. Its astonishing. I'm at 220bhp now with similar if not slightly better MPG. I think the thing to remember is with more power you tend to drive less efficently and why not!? The power under your right foot is addictive. I admit fully I race through the gears from lights. The most impressive part performance gain is the power in 2nd and 3rd gear, it will throw your head back. Don't even think about buying one of these just get your credit card out and do it already."
Andrew McLeod
Bluespark Pro + Boost - Audi Q3 2.0 TDi 150
" I ordered a Bluespark Pro + Boost tuning box for my 2015 Audi Q3 150hp. It arrived quickly and with excellent photo fitting instructions.it took me about 5 mins to install.wow what a difference it makes. Really pulls once you get into second gear and just keeps going through all the gears.
Money well spent. Thanks"


Jason Tillet
Bluespark Pro - Peugeot 407 SV HDi 2.7 V6
"With a starting point of 150Kw and 440Nm this car was no slouch. But since fitting a Pro Chip with Boost Control it has been transformed into a smooth, effortless powerhouse. 190Kw and 550Nm with improved economy of at least 10% (spirited driving on the default setting). The torque delivery is linear with gear changes now almost imperceptible and no noticeable turbo lag from take off. I used to really enjoy driving this car, now I just love it! :) We have two vehicles fitted with Diesel Pro Chips and I have no hesitation recommending Bluespark Performance Chips. "
Phil Murrell
Bluespark Pro - Ford Kuga 2.0 zetec 4x4 auto
"Best move I ever made buying this. I wanted to improve the towing ability and get better mpg. Acceleration with and without the caravan has greatly improved and the auto gearbox is so much smoother with the module fitted and doesn't have to change down as much as it used too. Fuel economy is better, solo it is up by 10% but with the caravan attached it's 12% better. I had hoped for an increase in economy and the results are better than I expected. I haven't tried the other settings yet, I have left it set as supplied. Would I recommend this product, yes without reservation worth every penny."
Charles
Bluespark Pro + Boost - Renault Master 2011 2.3dci
"Im glad i bought this, looked at different devices of similar ratings and was also thinking of getting it done pprofessionaly at local garage, but after reading the reviews i selected the bluespark pro. What a difference it has made to the power gains, less gear changing on uphill driving and superb response on driving of, factory set at B/5 but i reackon the best stting is C/5. im one well pleased customer, would recommend this to anyone, easy fit (read the instructions first, it helps) and much cheaper than other similar boxes. "
Charles
Bluespark Pro Petrol Turbo - Volvo V40 2.0 T2 R Design
"I've just arrived home after having my Bluespark Pro module fitted and what can I say but WOW! The performance gain is phenomenal and the engine seems to run a lot smoother. The reason I've put no change in the economy section is because I was having a bit of a play coming home but there didn't appear to be any difference in the use of fuel but I will repost after a month or whenever I can get the smile off my face. My car went from a stock 122Bhp to 176Bhp which is a massive gain! Thanks to the Bluespark team and especially Edd for making my trip worth while. "
David
Bluespark Pro + Boost - Toyota Hilux 3.0 D4D
"I don't do feedback, however if you have a hilux you will not believe the difference. The vehicle pulls so much better and smoother. I'm not to bothered about top end as it is a pick-up after all. Not had it fitted long enough to check economy difference but i expect it to be slightly better even if not it's well worth fitting. If you pull a trailer then fit a Bluespark."
Alan
Bluespark Pro + Boost - Mercedes C220 CDI w205
"Fitted the CR Tech 2 over the weekend, and took the car for a long drive over the moors and the car pulled so well in ECO mode i didn't want to change it to sports mode, the torque was there and it stayed in gear for the hills that i thought it would change down for. the MPG went up to 57 round these roads, so i cant wait for a long motorway drive, and a big thanks to Greg for your advice. Well Recommended "
Alan
Bluespark Pro + Boost - Mitsubishi L200 2.5 DID
"Bought box took minutes to fit very easy, Tried it on standard setting which was c slight improvement so then moved up to d then e, with it set on e with fine tuning set on 5 it was impressive pulled well so bought a k and n filter and with the two the difference is huge pulls like a train and ive seen an increase in mpg not could not be happier and customer services was great rung up and picked box up within 20 minutes "
Steve
Bluespark Pro Petrol Turbo - Seat Leon mk3 1.8TSI DSG
"Had one of these boxes on my Abarth previously so knew they were great quality. Was a bit worried about the DSG box on my new car. Spoke to the guys at Bluespark who were able to reassure me they had tested my version and I decided to go for it. So glad I did - wow! Good improvement on setting 3 but phenomenal acceleration on setting 4 with no obvious loss of MPG. Now Golf GTI fast. Awesome!"
Chris